Long Term Evolution (LTE) Tutorials
Long Term Evolution Presentations with Audio
Rohde & Schwarz's presentations provide an excellent introduction to LTE. The presentations are accompanied with an audio narration. The topics covered are:
LTE Introduction

Motivations for LTE
LTE market and background
Requirements

LTE Technology Basics I, II and III

Parameters and frequency bands
OFDM and OFDMA
Downlink and frame structure
SC-FDMA and PAPR
LTE/SAE Network architecture
User plane control and user plane
Channel Mapping
UE categories

LTE Radio Procedures I

Initial Access and Cell Search
Downlink signals
System Information
Random Access Procedures
PDCCH and Hybrid ARQ
EPS Bearer setup

LTE Radio Procedures II

Uplink Scheduling and Frequency Hopping
PUSCH and PUCCH

LTE Radio Procedures III

Mobility Procedures
MIMO
Downlink transmit chain and MIMO
Uplink MIMO
---
Voice over LTE via Generic Access (VoLGA) Whitepaper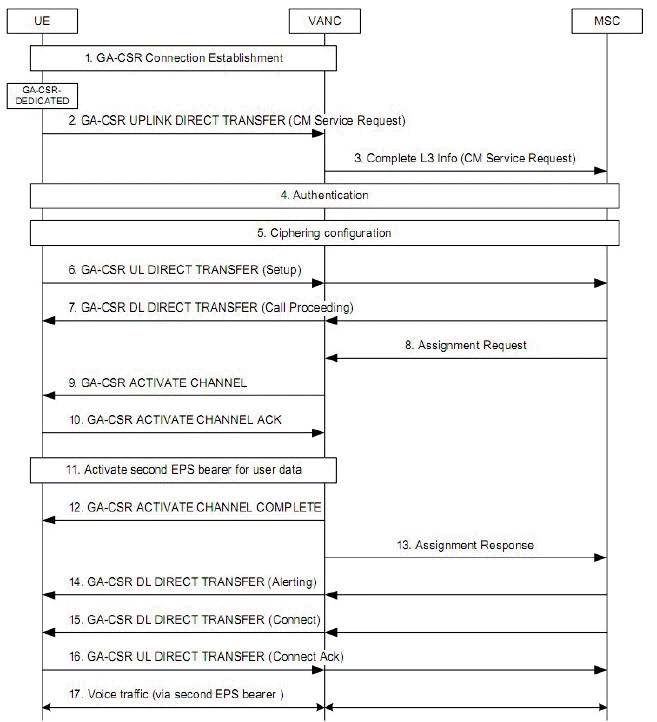 Excerpt from the paper: "Voice over LTE via Generic Access Network, or VoLGA for short, which is defined by the VoLGA forum2. Here, the concept is to connect the already existing Mobile Switching Centers to the LTE network via a gateway. As no fallback to a legacy network is required, call setup times are not increased and the user's quality of experience is consistent with that of the 2G or 3G voice environment.
VoLGA is based on the existing 3GPP Generic Access Network (GAN) standard, which is deployed for example by T-Mobile in the US and Orange in France. The purpose of GAN is to extend mobile services over a generic IP access network. One of the popular applications of GAN is with Wi-Fi-enabled phones. With GAN-based dual-mode mobile phones, all services are either available over their GSM networks as usual, or over Wi-Fi at home or in public places. Moving between the two network technologies is fully transparent to the user.
---
Long Term Evolution (LTE): an introduction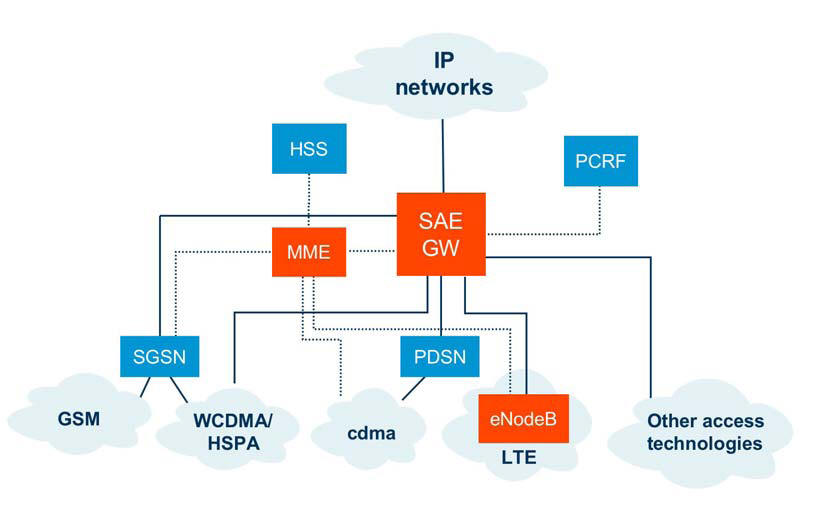 This paper from Ericsson covers the following topics:
A projection of future growth in wireless broadband
LTE architecture
A brief introduction to OFDM and SC-FDMA
---
LTE: The Evolution of Mobile Broadband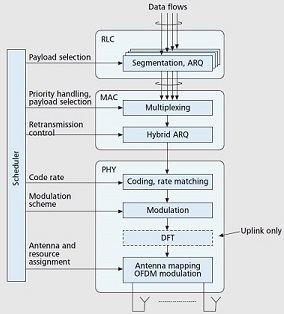 This article provides an overview of the LTE radio interface, recently approved by the 3GPP, together with a more in-depth description of its features such as spectrum flexibility, multi-antenna transmission, and inter-cell interference control. The performance of LTE and some of its key features is illustrated with simulation results. The article is concluded with an outlook into the future evolution of LTE.
---
LTE Link Layer Design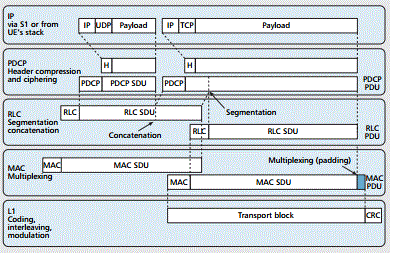 The LTE radio interface for 3GPP Release 8 was specified recently. This article describes the LTE link-layer protocols, which abstract the physical layer and adapt its characteristics to match the requirements of higher layer protocols.The LTE link-layer protocols are optimized for low delay and low overhead and are simpler than their counterparts in UTRAN. The state -of-the-art LTE protocol design is the result of a careful crosslayer approach where the protocols interact with each other efficiently. This article provides a thorough overview of this protocol stack, including the sub-layers and corresponding interactions in between them, in a manner that is more intuitive than in the respective 3GPP specifications.
---
Journal of Electrical and Wireless Computer Engineering:
Special Issue on LTE and LTE Advanced
The special issue on LTE and LTE advanced contains articles covering the following topics:
Interference mitigation in LTE
Downlink scheduling of multiclass Traffic
Inband relay deployment in LTE advanced
---
Overview of 3GPP Long Term Evolution Physical Layer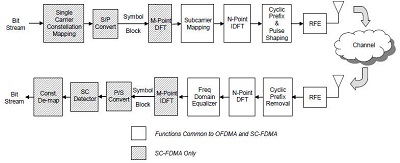 This article from Freescale provides an excellent introduction to the LTE physical layer. The topics covered are:
LTE basic concepts and an introduction to OFDM
Multiple Input Multiple Output (MIMO)
Maximal Ratio Combining (MRC)
SC-FDMA
LTE generic frame structure
LTE physical channels
Downlink and Uplink Transport channels
---
Long Term Evolution Protocol Stack Overview
This paper provides an introduction to how the LTE protocol stack operates. Because the final 3GPP specification will cover tens of thousands of pages, this paper touches only on the highest levels of protocol operation. The paper discusses the history and application requirements that determine the functions and priorities of LTE, examines the protocol stack in terms of the time domain and in terms of information moving through the stack, and finally discusses more specialized aspects of the standard such as scheduling and quality of service, management and control functions, handovers and power save operation.
---
Proof of Concept Implementation of Long Term Evolution (Thesis)
Thesis covers a proof of concept LTE system. User plane handling is covered in detail. The following topics are covered:
Introduction to LTE

OFDM and SC-FDMA
RLC/MAC, PDCP and RRC
S1 Interface

LTE Prototype

System architecture and implementation concepts.
---
Key Features of the LTE Radio Interface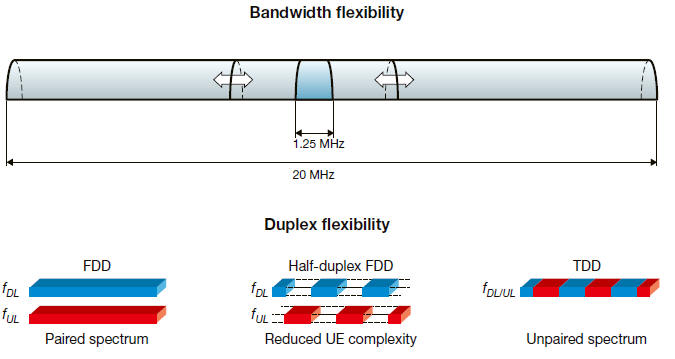 This article from Ericsson presents some of the key features of the radio interface for LTE (long-term evolution), recently approved by 3GPP. LTE enables unprecedented performance in terms of peak data rates, delay, and spectrum efficiency.
The authors discuss spectrum flexibility, multi-antenna technologies, scheduling, link adaptation, power control, and retransmission handling.
---
Spectrum Analysis for Future LTE Deployments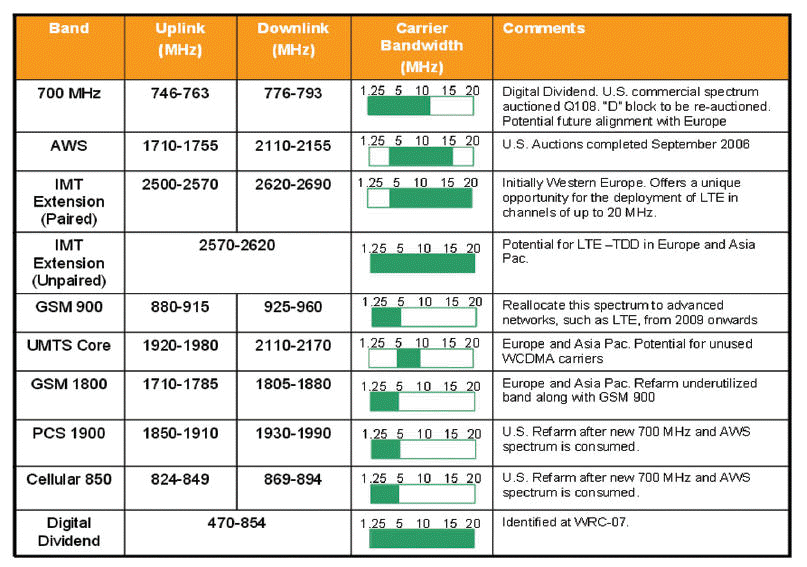 This article from Motorola talks about current and future spectrum allocations for LTE. Potential redeployment of GSM and other legacy services are also covered.
---
Long Term Evolution (LTE): Overview of LTE Air-Interface Technical White Paper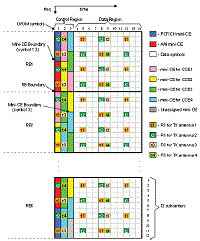 Motorola gives an overview of the LTE air interface in this article. The main areas covered are:
LTE performance requirements
Downlink and uplink control channels
Simulation results and capacity
---
Long Term Evolution (LTE): A Technical Overview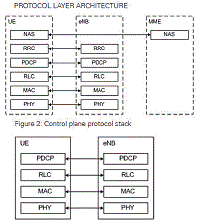 This article from Motorola provides a good overview of LTE. The following are covered:
LTE Architecture

Evolved Radio Access Network (RAN)
Serving Gateway (SGW)
Mobility Management Entity (MME)
Packet Data Network Gateway (PDN GW)

LTE Protocol Stacks

Control Plane Stack:
User Plane Stack

Mobility Management
Evolved Multicast Broadcast Multimedia Services (E-MBMS)
---
Technical Overview of 3GPP LTE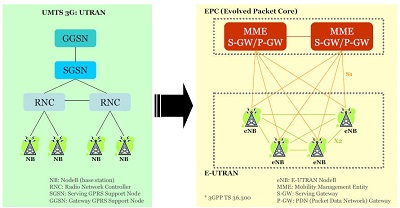 A technical presentation about LTE.
---
LTE Identifiers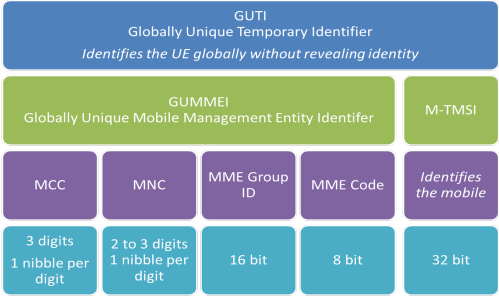 LTE signaling protocol define a large number of identifiers for UEs, RABs and signaling endpoints. The presentation covers the IMSI, GUTI, GUMMEI, IMEISV, RNTI, TAI and APN.
---
3GPP LTE Medium Access Control (MAC) Sub-Layer Presentation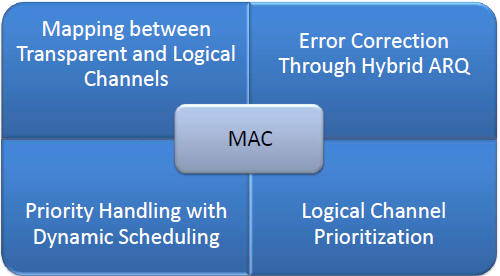 A presentation describing the MAC Sub-Layer of LTE. The following topics are covered:
Logical, Transport and Physical Channels
Random Access Procedure
DL-SCH and UL-SCH Data Transfer
---
3GPP LTE Radio Link Control (RLC) Sub-Layer Presentation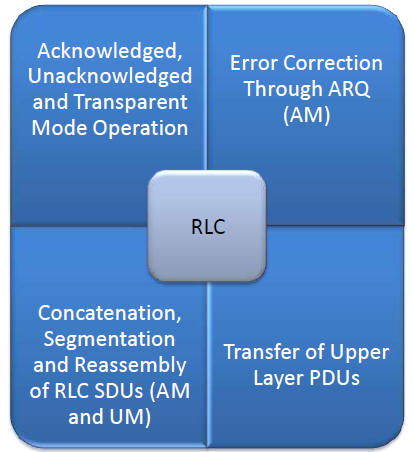 A presentation describing the Radio Link Control (RLC) Sub-Layer of LTE. The following topics are covered:
RLC sub layer functions and interactions with other layers
RLC transparent (TMD), unacknowledged (UMD) and acknowledged (AMD) modes
Unacknowledged mode handling and state variables
Acknowledged mode handling and state variables
TMD, UMD and AMD PDU formats
---
3GPP LTE Packet Data Convergence Protocol (PDCP) Sub-Layer Presentation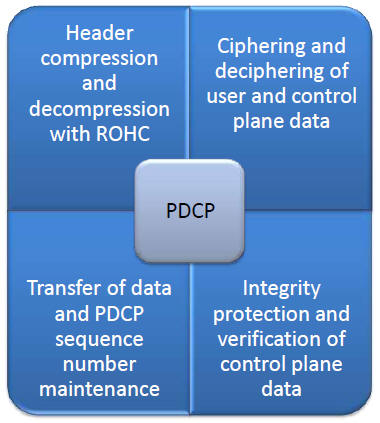 A presentation describing the Packet Data Convergence Protocol (PDCP) Sub-Layer of LTE. The following topics are covered:
PDCP sub layer functions and interactions with other layers
Robust Header Compression (RoHC)

RoHC Modes (U-Mode, O-Mode and R-Mode
RoHC Compressor and Decompressor States in different modes

PDCP PDU formats

Control and User Plane PDUs
PDCP Fields
---
LTE RRC Connection Setup
RRC connection setup at the start of a session is covered. Message contents are explored in detail.
---
LTE Attach and Default Bearer Setup Message Details
Message interactions involved in LTE attach and default bearer setup are described in detail.
---
Dynamic Radio Resource Management in 3GPP LTE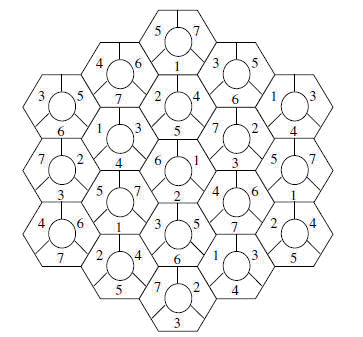 Analysis of different radio resource management and frequency reuse techniques in LTE.
---
MIMO Technologies in 3GPP LTE and LTE-Advanced
Majority of the world's operators and vendors are already committed to LTE deployments and developments, making LTE the market leader in the upcoming evolution to 4G wireless communication systems. Multiple input multiple output (MIMO) technologies introduced in LTE such as spatial multiplexing, transmit diversity, and beamforming are key components for providing higher peak rate at a better system efficiency, which are essential for supporting future broadband data service over wireless links.
---
MIMO Transmissions for LTE and HSPA Networks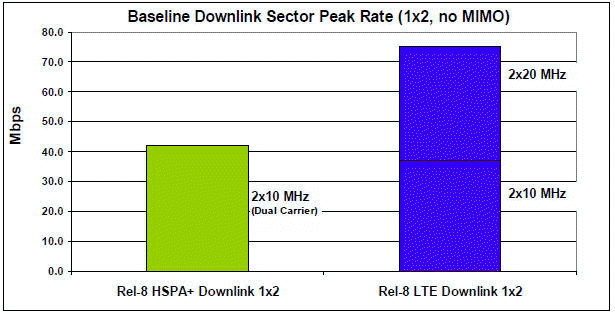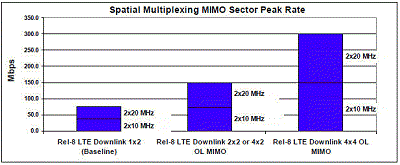 For over a decade universities and wireless research labs have been combining multiple antenna
transmission techniques with advanced signal processing algorithms to create what is sometimes called smart-antenna and is also known as multi-input multi-output (MIMO) technology. These schemes are now moving into mainstream communication systems. Indeed, MIMO technologies can already be found in wireless local area network access points (e.g. 802.11n based solutions). This has led to MIMO being standardized in WiMAX as well as in 3GPP Rel-6 and Rel-7 of the UTRAN (HSPA) specifications. Further, Rel-8 of the E-UTRAN (LTE) 3GPP specifications, completed in March 2009, included the most advanced forms of MIMO in any standard in the industry. And even more advanced MIMO enhancements are currently being studied for inclusion in 3GPP Rel-9 and Rel-10.
---
SAE - The Core Network for LTE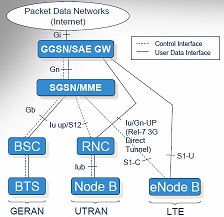 Presentation from Ericsson describing the evolution of the LTE Core Network.
---
EPS Architecture Explained
---
GTP Overview
---
LTE and Voice
---
IMS and LTE
---
LTE Signal Demonstration
---
LTE Presentation